May 2018 | Speaking at ATD International Conference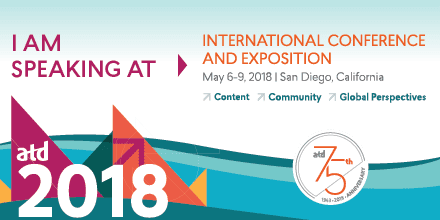 GOV100 – Transforming Learning and Performance in State Government
Sun, May 06 | 1:30 PM – 2:30 PM | Room: 10Talent managers face unique and urgent workforce challenges in the public sector. Between demographic shifts, hiring freezes, the attrition of eligible retirees, and bureaucratic structures that fail to attract younger or more specialized workers, government agencies struggle to recruit and retain top talent. In the competition for talent, a learning culture has emerged as a key differentiator. This session shows how one award-winning state HR department created a more skilled, engaged, high-performing, and resilient workforce through its cultural transformation into a learning organization. Explore how pioneering learning leaders integrated proven practices for building a learning organization into their strategic partnerships and overall change process. Assess which key practices to apply toward your own culture-building efforts in either the public or private sector.
Application on the Job:
Discover proven practices for building a high-performing learning organization.
Explore elements of an award-winning culture change in state government.
Increase your value as a strategic change agent and business partner.
Type: Education Session
Tracks: Industry Topic – Change Management, Industry Topic – Engagement & Motivation, Government
Learning Approaches: Case Study
Target Audiences: Director/Manager